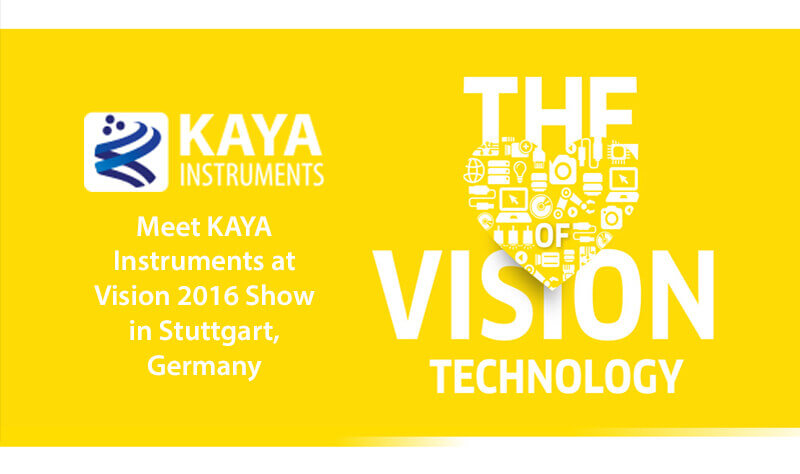 Meet KAYA Instruments at Vision 2016 Show in Stuttgart, Germany
On coming November 8th-10th, 2016 we will be exhibiting at the Vision 2016 show held in Stuttgart, Germany.
VISION, the world's leading machine vision trade fair, is not just the marketplace for component manufacturers, it is also a platform for system suppliers and integrators. VISION is where OEMs, mechanical engineering companies and system houses learn about the latest innovations from the world of machine vision components, and where they initiate their investments. At the same time it is where end users searching for specific machine vision solutions meet numerous system integrators. This is the only place in the world where the complete spectrum of the machine vision technology is staged in this way. Find out all about machine vision from 8 to 10 November 2016 in Stuttgart. VISION – The Heart of Vision Technology.
This is a good opportunity to meet KAYA Instruments and observe our variety of top-gun products, on-going projects, innovations and more. Please visit us at our booth #1I52
About KAYA Instruments
KAYA Instruments is a privately held global company which was founded in 2008.
It serves a global audience in the machine vision and broadcasting market with proprietary products and solutions.
It is a leading provider of high-speed cameras, acquisition systems and video interfaces, by technological combination of highly-engineered products.
The company designs and manufactures internally to ensure the highest quality, in line with clients' highly specific needs.
Many of KAYA Instruments' systems are field-customizable, making them continuously compatible with clients' changing needs.
The company's engineers and producers, who have dozens of years of experience, are supported by comparably talented technical support staff and unparalleled documentation.
Sophisticated software tools, including rich GUI and featured SDK, integrated with industry leading cameras and acquisition systems, allows customers incredible products for a reasonable price tag.
The company follows strict rules of quality control, for all aspects of design, manufacturing and support.
It holds ISO certificate 9001:2015. Company's products are tested and certificated to appropriate standards, such as CE, UL, FCC etc.
Contact: KAYA Instruments Contact